Anti-government protesters at the Polytechnic University campus fired arrows at police and fired petrol bombs, while police used tear gas to disperse the protesters. One policeman was injured in these clashes. The chaos erupted after intense clashes between police and pro-democracy protesters on Saturday and Sunday at the Polytechnic University campus.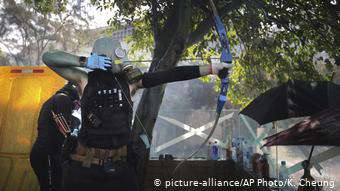 Police used tear gas and a sharp blue liquid to disperse the protesters, while demonstrators threw petrol bombs at security personnel and fired arrows at the university's roof. Hong Kong police posted photos of the injured policeman on Twitter, saying that the protesters were throwing bricks, petrol bombs, and arrows at the police, and a policeman was injured in the leg shooting. The policeman was shifted to the hospital. Students in Hong Kong have been protesting in several universities for the past one week, but protests are still underway at Polytechnic University and heavy police force has been deployed outside the university.
Scenes of parts of Polytechnic University's campus look like a battlefield where black-eyed protesters sit on the fronts. Demonstrators can see bricks, petrol bomb crates, arrows and arrows. Ah Long, a student at the university, said that he is not afraid at all, "We will fail if we are not steadfast." So why not (everything) be at stake. "In addition, pro-democracy lawmakers have strongly criticized the Chinese military's presence in Hong Kong for peace and order.
According to a spokesman for the city government, "The Hong Kong administration did not summon the Chinese army, but the Chinese military is voluntarily taking action." In Hong Kong, China's growing influence in June These protests began against the insurgents. The chief of this special administrative area of ​​China, Kerry Lim, wanted to implement a law that would have paved the way for the suspects' extradition to China. However, the government later decided not to enforce the law. Protesters are still protesting against police violence and Beijing's influence. AD, AP (Reuters, AFP)